Publisher: CX-X Canik
February 13th, 2020

Editor's Note:
Hello all, and thank you for reading the 501st Newsletter, Issue #37! Sorry for the delay in posting the Newsletter! We are slowly working back to getting on a regular schedule again. Be sure to keep an eye out for our next article in the Legion Profile series, as well as two other article releases. A few notes for this Issue; We have added Acklay 1 & 2 to Platoon News (before it was just Acklay HQ). In the last Newsletter, it was announced that Acklay had moved to a Company level. Another change, we have included the whole of Zeta under Company News. Due to the nature of the company, all promotions (CR-C to CT+) will be listed in that section. Thank you again for reading!

Official Launch of the Krayt ARC Program! Since the last Town Hall meeting, Avalanche Company Command has been going through the interview process with previous ARC Detachment members, as well as new candidates put forward by the platoons. After assessing 36 candidates, Company has narrowed the number down to 8. The following individuals have been accepted as the first generation of Krayt ARC Troopers:
If you wish to see the basic Rules and Responsibilities of Krayt Troopers, click HERE.
CAMPAIGN NEWS! The Battle on Geonosis was long and valiantly fought, with the Hand proving to be a difficult nemesis. However, the 501st Legion prevailed as usual, and as such, there are a few awards that are being distributed among the Legion.
Avalanche 3-2, through heroic actions and resolve, are being awarded the Herdessa Campaign Ribbon. (See details in Discord #announcements, 2/12/2020)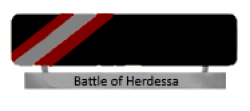 Avalanche 2-4 and Acklay 2-2 (formerly 1-4), both cornerstones to their respected platoons, are being awarded the Geonosis Campaign Ribbon. (See details in Discord #announcements, 2/12/2020)
4th Platoon, for showing continued excellence and unwavering resolve, was a key factor in capturing the Hand's compound. Due to their involvement in several key battles, they are awarded the Savareen Sector Ribbon. (See details in Discord #announcements, 2/12/2020)
Lastly, Battalion and Company HQ members would like to congratulate every platoon and detachment for their hard work and efforts throughout the recent campaigns!
BATTALION CHANGES! As most of you know by now, CS-M Verax, our Battalion NCOIC has stepped down from his position due to IRL reasons. He leaves behind a legacy in helping drain the community of individuals who inhibited the growth of the unit, as well as took part in many radical changes that has helped shape the 501st into what it has become. He will be replaced with CS-M Odin (Avalanche Company NCOIC) as the Acting Battalion NCOIC until further notice. Another change in the Battalion structure is BC Bondoer has needed to step away from his position as Battalion XO, also due to IRL reasons. Many of you know him as the Head of MPs, doing a great part in keeping the 501st Community safe from those who wish to do it harm. He is being replaced by CX Scuba (Razor CO), as Acting Battalion XO until further notice.
STREAMERS! If you have ever wanted to stream or record on our servers, there have been some changes. CS-M Delta is the new head of the streaming department. The old list of approved streamers has been removed, so unfortunately, if you were on the previous list you will need to reapply. If you are interested in streaming or recording, all you have to do is read The Streaming and Recording Rules, sign up through the Streaming and Recording Application, and then wait for your name to pop up on the Approved Streaming and Recording List.
TCW! TCW has been hard at work for the past few months. They have been on a new cycle, and know they have been dark to the public eye. With the recent tests and developments, members of the TCW Team have created a more solidified foundation for their next release soon. If you have any interest in modding at all, contact CC Lava, or any leadership within TCW that is listed on the Command Tab of the Main Roster.
RECRUITMENT! There are currently 5 Recruitment slots open. Recruitment Staff are prioritizing AU time-zone applicants in order to further reduce recruitment wait times. AU times are 11PM-11AM EST. Additionally, Recruitment Leadership would like to emphasis that no one should be giving recruits discord tags without checking to make sure they are on the roster. If you are interested in one of the 5 positions, or have any questions or concerns, please message any Senior Recruiter, CX-X Alex, or CP Walsh.
Event Management: Events will be scheduled and posted SoonTM, if you're interested in helping out please have a read over our Protocol & Regulation Guidelines, then apply HERE.

Battalion HQ
News: Battalion is currently going through reformations to ensure improved communications with Avalanche and Acklay Companies as well as their support detachments. We are also continuing our plans to maintain a strong battalion for the future.
Promotions: CM-S Shade (Acting BTN Medic), CI-P Power (Acting BTN RT)
"My fake plants died because I forgot to pretend to water them" - CS-M Verax

Avalanche HQ
News: We deployed to Rugosa as the Galactic Marines this past weekend. ARC Krayt training has begun and are going great, we are all excited about the potential they bring in supporting Avalanche and the unit as a whole.
Promotions: Player (1LT to CPT)
"Fear is a great tool in moving people to action, however it is not a sustainable plan of action" - CC Player
Acklay HQ
News: Acklay is currently reviewing documentation for eventual expansion. Acklay 2 is performing additional trainings, in order to join in on the Galactic Campaign. Lastly, Ride-alongs soon(™)
No Promotions
"We're hard at work prepping for the year" - CC Lava

Zeta
News: Zeta Company is working their best to provide the unit with Active members to keep squads moving and filling positions across the battalion.
Promotions: Fancy (CS to CS-M), Broad (CW-1 to CW-2), Habas (CW-1 to CW-2), Anorant (CR-C to CT), Kahorn (CR-C to CT), War (CR-C to CT), Rick (CR-C to CT), Coyote (CR-C to CT), Sideways (CR-C to CT)
"Zeta Company has been my home and I wish those within the Company the best. Continue working hard and remember your importance within the unit. Also, Fancy needs a shower." - CI Arcanist


Avalanche 1
Recruitment: 1-1 is looking for an Alpha Team Medic, and 1-3 is looking to fill a trooper slot
Promotions: Kestrel (CP to Sr. CP), Locke (Sr. CT to Vt. CT), Jink (CP to Vt. CT (Krayt Transfer), Siffy (CT to Sr. CT), Tideend (CP to Sr. CP), Simon (Sr. CT to Vt. CT), Sticks (Sr. CT to Vt. CT)
"1st Platoon is excited that the campaign is back and can't wait to keep kicking ass" - CC Point

Avalanche 2
Recruitment: 2-3 and 2-4 are looking for Bravo Medics.
Promotions: Mirror (CT to Sr. CT), Fiend (Sr. CT to Vt. CT), Anta (CT to Sr. CT), Maverick (Sr. CT to Vt. CT), Courtney (CP to Sr. CP), Raloris (Sr. CT to Vt. CT), Chatter (CT to Sr. CT), Nightingale (Sr. CT to Vt. CT), Flooded (CR-C to CT), Bruce (CT to Sr. CT), Uni (CT to Sr. CT), Sledge (CT to Sr. CT), Dakota (CT to Sr. CT), Teacup (CT to Sr. CT), Fenrir (CT to Sr. CT),
"The Seas are calm and the Winds are steady. Also, if you see CC Andromeda go towards a Lifeform Scanner, he is to be shot on sight." - CS-M Pompano

Avalanche 3
Recruitment: 3-2 is looking for 1 Bravo Medic.
Promotions: Andromeda (CS-M to 2nd LT), Altred (CT to Sr. CT)
"I'm just gonna CAS you all and call it a day." - CI-P Dimitri

Avalanche 4
Recruitment: 4-1 is looking for an RTO, and 4-3 and 4-4 are looking for 2 Troopers each.
Promotions: Fixit (Sr. CT to Vt. CT), Dobby (Sr. CT to Vt. CT), London (CT to Sr. CT), Train (CP to Vt. CT), Narrator (CT to Sr. CT), Delaney (Sr. CT to Vt. CT), Matt (CR-C to CT), Clock (CP to Sr. CP), Widyen (CT to Sr. CT), Leon (Sr. CT to Vt. CT), Beast (CT to Sr. CT), Slugger (CT to Sr. CT), Snorri (Sr. CT to CP)
"They came from… Behind..." - CS-M Drifter
Acklay 1
Recruitment: TBD
Promotions: Hantar (CT to Sr. CT), Maurice (Sr. CT to Vt. CT),
"It is time for galactic conquest! Another command post for the Republic!" - CC Lava
Acklay 2
Recruitment: TBD
Promotions: Roasty (Sr. CT to Vt. CT), Gull (Sr. CT to Vt. CT)
"Fun fact: in CTC, Drifter actually never drifted. It was a bit of a let down." - CS-M Ricochet

Razor
News: ITA has closed for this cycle, but keep your eyes open for the next announcement. In the meantime, feel free to attend any voluntary flight training hosted by members of Razor if you are interested in honing your flying abilities!
No Promotions
"The day your troopers stop bringing you their problems is the day you stopped leading them.
They have either lost confidence that you can help them or concluded that you do not care. Either case is a failure of leadership." - CX-P Casskun

Mynock
News: Starting on 2/12/2020, this IEA cycle is now open to all members of the unit. Previously it was closed to all but Zeta. Mynock has also adjusted the Zeus Guidelines relevant to the detachment. You can find the document HERE.
Promotions: Delta (CS to CS-M), Drebien (CT to Sr. CT)
"Mynock will be opening recruitment soon, so keep an eye out!" - CS-M Delta
B.A.R.C. DETACHMENT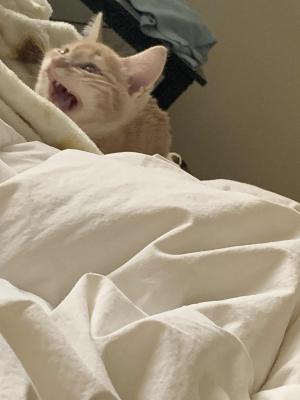 CR-C Peanut
CR-C Peanut, while only a Cadet (and not a dog), has seen some tough times serving the 501st. In this photo, poor CR-C Peanut is having PTSD flashbacks of the Herdessa Campaign. For his services as a loyal companion to CS-M Delta, CR-C Peanut is being awarded the "Bestest Boi" Medal.

501st News Team opinion doesn't reflect the opinions of the entire community. If you'd like to help the news team bring in new information, you can by signing up for the news team, submitting an article, posting a piece of media or getting publicity for a custom event you're hosting. For those interested, please contact either CX-X Canik, or one of the editors for more information. Your voice matters, let it be heard. We're currently looking for writers to collect stories, media and content. Feel free to leave comments below on what you think. Also please consider donating to the 501st to help pay for server costs and help keep this community alive and well maintained.
Publisher: CX-X Canik
Chief Newsletter Correspondent: CX-X Canik
Correspondents: CM Sunshine, CW Super