The 501st News Team got the chance to catch up with newly-promoted Second Lieutenant Crisis of Avalanche 2 and discuss his time in the unit and his plans for the future of the platoon.

WELCOME TO THE 258th

In July of 2017, Crisis joined the 258th training corps. The what? Yes, the 258th. In those days, Recruits would need to graduate before selecting which GARC legion to join. Crisis, upper leader of the 501st, chose the 212th. He hoped to find a smaller community that was more tightly meshed than, in his own words, "the massive blob that is Garry's Mod." But, lucky for the Legion, it wasn't meant to be. Due to scheduling conflicts, Crisis would request and be approved for a transfer into the 501st.

Then-Cadet Crisis would then participate in the second ever CTC class. CTC was the original training course for the 501st before the transition to the UTC format. After completion of CTC, Crisis joined Avalanche 3-4 as the bravo team lead under the mighty Andromeda with grizzled veteran and our very own publisher Sideways as the alpha team lead.

TRENCH PLATOON

Later, both he and Sideways would transfer to 3-2 where Sideways squad led and Crisis was his alpha team lead. Crisis credits most of his growth with 3rd platoon. Thanks to the guiding hand of Andromeda, Sideways, Ewik and former 3rd Platoon commander Machete, Crisis learned the skills to be an effective trooper and more than capable leader.

GHOSTS IN THE SNOW

After becoming an NCO, Crisis transferred to Blizard 1-1 as a squad leader. It "was an absolute blast, literally, cause we exploded over most objectives." Not long into his service, Blizzard was shuttered and became Avalanche 4, where Crisis found himself in the Platoon Sergeant billet. "This was definitely a new challenge for me since I was left to run everything about the platoon by myself. However I did have help from the experienced leaders" Player, Klein, and Machete.

4th platoon was to become Crisis' home. But, as with all things, change is inevitable. Real life scheduling conflicts arose again, Crisis had no choice but to transfer to 2nd platoon. It was a bittersweet departure.

MEMER AND COMMANDER

As Platoon Commander, Crisis had to balance his friendships with his duties. "I've lost a lot of friends because they were breaking rules or not doing their jobs, and when they had to be disciplined, I was blamed [...] I've gotten to know so many people, and it has been sad to see some of them go, either from leaving the unit or just growing apart."

Crisis has a lot planned for the future. "I'm happy that I've been recognized for all the work, time, and dedication I've put into the unit. However, having CC in my name means the expectations are much higher now, and im ready to take on whatever I need to help the unit grow."

The plan hasn't changed much with the new rank, however. His goal is a simple one. "Provide a fun experience and an environment to improve" to inspire others to put in as much time and work into the unit as they can.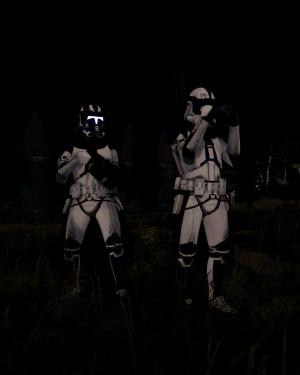 WAR STORY AND CONCLUSION

You've all hopefully heard a squad leader snap: "No war stories 'til the end!" Well, here we are, and we weren't about to let Crisis get away without one.

"IBERIUS, Coward's Campaign. 3rd platoon was on the counter attack after suffering a brutal defeat the last weekend. At one point we had to investigate a possible CIS facility in a mysterious rock quarry. Leaving most of the platoon to watch our rear, HQ, ARC, and my squad, 3-2 were sent to investigate.

It was empty, but after a moment, a trap was unleashed! Droidekas and B2s swarmed out of the quarry and from the surrounding woods. We were attacked from all sides. Everyone caught in the crossfire was killed, leaving only me, Machete, and one or two others, somehow alive thanks to our trusty 3rd Platoon trenches. I fished the radio from the remains of the RTO and called in support. When Machete and I walked out of our trenches that were surrounded in droid and clone bodies. We had killed a platoon of droids."

If the current trend is anything to go by, the 501st should expect great things from Crisis. Congratulations to Crisis on his promotion, and if you happen to see the Second Lieutenant, be sure to send him your congrats. May the Force be with you, Lieutenant.

Until next time,
CT Momentum and CX-C Canik Signing off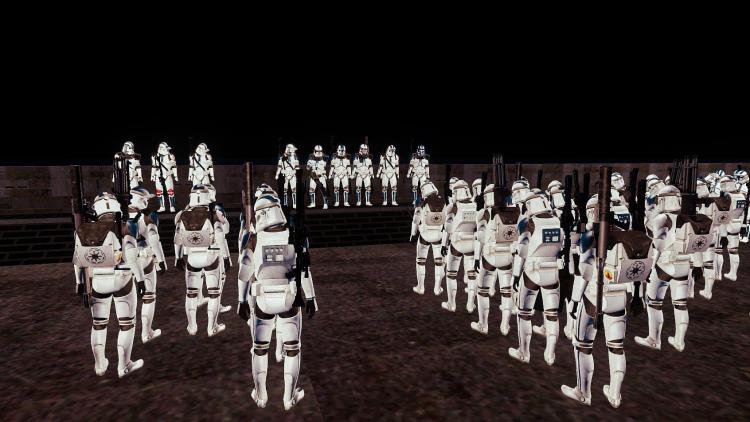 Trooper Momentum, Veteran Trooper Lucky, Flight Cadet Canik, Petty Officer Sentinel, Senior Trooper Silver